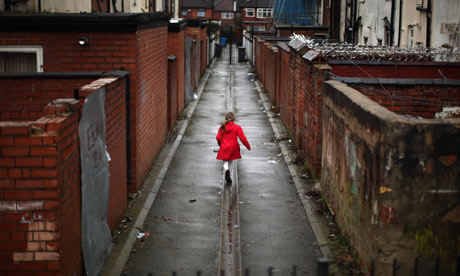 According to
The Guardian
on
Wednesday 23rd February 2011
, Ministers should draw up an emergency plan to tackle extreme levels of
poverty
as new research showed that more than one in four
children
live in penury in some major UK cities.

The figures, compiled by
Save the Children
, show that 1.6 million youngsters live in severe poverty, which the charity condemned as a "national scandal". With unemployment rising and a radical shake up of the welfare system seeing £18bn wiped from benefits, the charity fears the number of children living without the basics will rise unless action is taken.


Save the Children
says more than one in five children now lives in severe poverty in 29 areas of the country. The highest proportion – 27% – is in
Manchester
and the London borough of Tower Hamlets. More than 20% of children experience severe poverty in Birmingham and Liverpool.

Wales has the highest proportion of children living in severe poverty (14%), followed by England with 13%, then Scotland and Northern Ireland which have 9% each.

There are also more than one in three people admitted to hospital across the UK, who are at risk of malnutrition, according to a survey of nearly 10,000 patients. The charity
BAPEN
, which ran the survey, have said they are concerned about a rise in malnutrition among people being admitted into the NHS from their own homes.

The charity stated that Government cuts in community services, including meals-on-wheels, were likely to put extra pressure on hospitals. Councils have also said that tough decisions on spending cuts are unavoidable and with Hospitals routinely screening patients for the risk of malnutrition,
BAPEN
's survey has suggested the problem may be getting worse.

More than one in three were found to be at risk, which was higher than in previous surveys, though this was the first to be carried out in winter.
BAPEN
is particularly concerned that more than 30% of those admitted from their own homes were found to be at risk, compared with 26% in the two previous surveys.

The warning comes as the
National Association of Care Catering (NACC)
reported cuts in funding for local food services in London, Buckinghamshire, Norfolk, Hampshire and Nottinghamshire. The charity
Age UK
Camden runs the Henderson Court day centre in north London, which services more than 6,500 hot meals a year to elderly and other vulnerable people.

But Government cuts in funding means that services like those provided at the Henderson Court will be forced to close. One of the members at the centre, Cynthia Philpot told the
BBC
, "What are these elderly people going to do if they can't cook? You've only got to look around this room and they're in wheelchairs, they've all got disabilities of one sort or another, and I definitely think places like this should be kept open. "

Meanwhile the
Independent
have warned that Unemployment has reached a 17-year high with more than 2.5 million people being out of work, with youth joblessness being at record levels, according to new figures.

The jobless total jumped by 27,000 in the three months to January to 2.53 million, the worst figure since 1994, while the number of 16 to 24-year-olds out of work increased by 30,000 to 974,000, the highest since records began in 1992.

Further Reading:

A State of Disorder