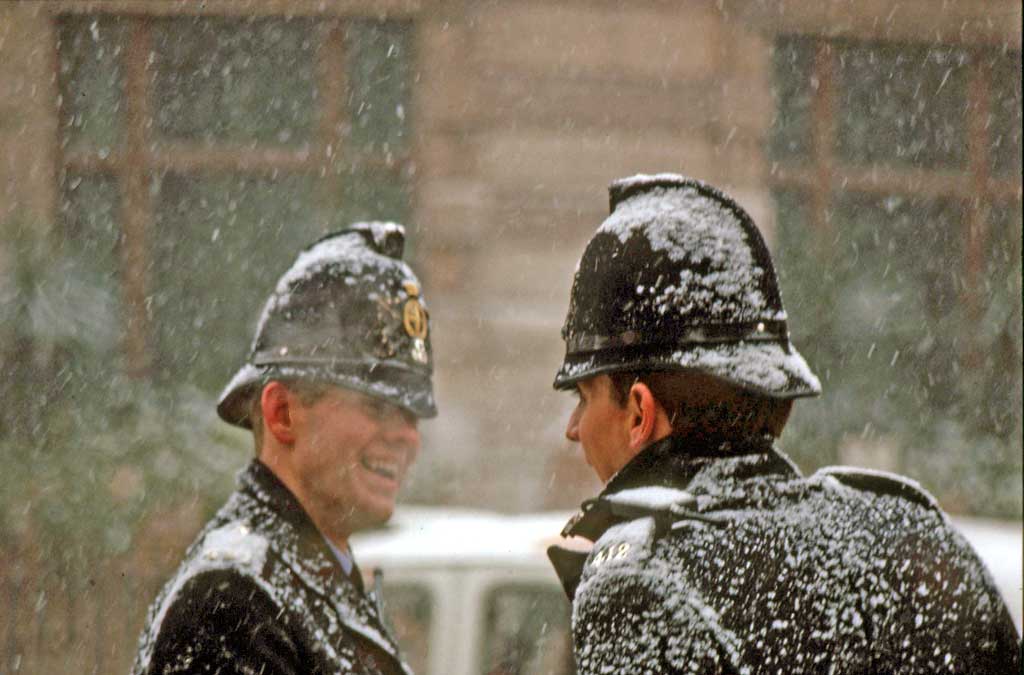 Members of Parliament have approved a package of
police
cuts, which Labour say will see around 10,000 officers axed from England and Wales, with Britain's Policing Minister
Nick Herbert
, describing the cuts as "challenging". Herbert has also insisted the Government cuts to the Police force were "manageable" and that the service could actually be "maintained and indeed improved".

But shadow home secretary Yvette Cooper has condemned the "crazy scale and pace of the cuts" which she said were the "biggest in a generation". The Labour opposition have also claimed: "The Government is taking a gamble with crime and policing", while accusing the Coalition Government of "risking public safety and the fight against crime", in the effort to curb public spending.

Only last November, 69 year old
Anthony O'Brien
was head-butted as he walked along Sherwood Street in Fallowfield, Manchester. The former Royal Air Force Veteran had only been wearing a Remembrance Day poppy and his old RAF jacket, when two men shouted 'death to all soldiers' before viciously attacking the pensioner.

On January 21st, the
Manchester Evening News
reported how 92-year-old Edith Brickhill was "kicked in the head and beaten black and blue" on her own doorstep for just £30, after a thug charged at the partially sighted grandmother, as she was letting her dog out.

According to reports, the perpetrator had kicked and punched Mrs Brickhill in the face before snatching the cash from her purse and fleeing – "leaving her battered and bleeding on the ground" but after the attack, the 92 year old had managed to stagger to a neighbour's home before being rushed to hospital.

This was the third attack against Edith Brickhill, in just over a year, which has since left her scared for her life and terrified to return to the house, which she has lived in for more than four decades but while the front line Police officers dealing with such cases describe them as being "mindless and brutal", the Government have stated that new laws are being introduced, that will allow courts and the police to tackle persistent deviants.

The Independent
reported this month, how "troublemakers could have their passports confiscated" and also risk losing "prized possessions such as iPods", in an overhaul of the powers available to the courts. Central government also has plans to restrict an offenders movements, by placing bans on them from their home towns, while exporting the problem elsewhere.

Ministers leading these changes have also assured the public that; "we're not talking about the police being able to seize things in the community. This is about going to court, evidence being produced and what sanctions may be appropriate for the courts to consider. Obviously, if someones passport is taken away then that could have an impact on their ability to travel."

There are also detailed "community triggers" being considered, after the ordeal of
Fiona Pilkington
, who killed herself and her disabled daughter Francesca in 2007, after being terrorised for years by youths outside of their home in Leicestershire. The joint Conservative and Liberal Democrat Government have also been accused of overlooking the fact, that every town and city in the UK is being blighted by sexual exploitation, with child victims going unidentified due to a lack of awareness in "the corridors of Whitehall".

"We need to send a loud and clear message to perpetrators – we will find them and they will be punished for the intolerable abuse they have inflicted upon so many young lives", declared Anne Marie Carrie, director of the children's charity
Barnado's
.

In an article published by
the Guardian
last month, Carrie highlighted a report titled
Puppet on a String
, where she warned of three new emerging issues within the UK, including child trafficking becoming more common; sexual exploitation being more organised, while child grooming has become more sophisticated. Barnado's also warned that technology such as the Internet, is being used to find, isolate and control victims; while an increasing number of younger children are actually being sexually abused.

It was Dwight Eisenhower who stated, "The clearest way to show what the rule of law means to us, in everyday life, is to recall what has happened when there is no rule of law" and with so many vulnerable people across Great Britain already living in areas where it appears that there is "no rule of law", the government, rather than making cuts in essential services like the Police force, should actually take some time to go and walk in the footsteps of those, who are experiencing the ugly face of modern day Britain.